The Disappointer
The Disappointer
General

Equipment slot

Weapon type

Soulbound

Unique

Value

40

Weapon

Combat type

Ranged

Range

8m

Handing

Speed

Very slow

Interrupt

0.35 sec (Weak)

Damage

15-20

Weapon bonuses
Enchantments

Possible enchantments

Related

Weapon focus

Abilities

Technical

Weapon ID

pistol_backer_the_disappointer
The Disappointer is a unique pistol in Pillars of Eternity.
The Disappointer was touted as a powerful, reliable weapon, but it has consistently failed every one of its unfortunate owners.

This is a terrible weapon that disappoints anyone who uses it. The gun appears well-made at first glance, but closer scrutiny reveals poor design and shoddy craftsmanship. Those who aren't fooled by its appearance still occasionally attempt to use it just to see if maybe the whole thing was made to look this way as an elaborate ruse, hoping that it is an artifact of extreme power, crafted by a master who desired to conceal its remarkable nature. It wasn't, and it isn't.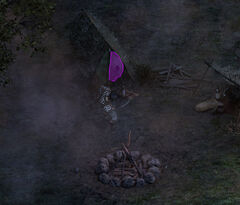 Coming from the caravan's encampment and across the river, the player character will discover a small abandoned camp, just north of where Sparfel's pack can be found during the second stage of A Moment's Respite. The stash has a difficulty of 0, so if you have less than 4 Mechanics, it can only be revealed in Scouting Mode.
If the Watcher cannot reveal the hidden stash, or if it is missed, the Disappointer can later be found on a corpse behind the Adra Dragon in the deepest level of the Endless Paths of Od Nua (only appears if the Watcher didn't take the weapon from the hidden stash in the encampment).