Deities
"
Better to be on no side at all. Woedica may be the most dangerous of the gods, but make no mistake. Engwith built gods from ideals, and an ideal on its own is a grotesque and vicious thing.
"
~ Iovara ix Ensios


Deities are widely recognized and worshipped across Eora.
Priests choose a deity during Character Creation.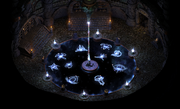 Gods of Eora are not gods in the traditional sense. Rather, they are the artificial creation of Engwith, a society of high minds and broad concerns. In the time of the Engwithans, every civilization worshipped its own gods, which inevitably led to religious warfare. After a series of devastating conflicts, the Engwithans sought an end to it. They devoted all their energy to finding the true Creators. Generation after generation, they analyzed the fabric of the world and unlocked its secrets, mastering the science of animancy. One day, they found an answer... except the answer was no answer at all. There were no gods to be found, or if there ever were, they were gone. It was a terrible shock to them; if they could discover this on their own, how long until others would? How long before war and chaos reigned over a world without consequence? To prevent this scenario, they used their mastery of animancy to create their own gods to fill the void.[1]
Together with the ancient Huana of Ukaizo, they perfected the science of soul-making, eventually creating great artificial bodies of flesh and bone. Using a massive adra-powered machine at Sun in Shadow, they extracted the souls of thousands of Engwithans assembled in the chamber - men and women, children and the elderly, all they could find - and spawned the gods of Eora. Each deity was crafted from an ideal, to give kith not one, but many meanings to choose from in life.[2][3]
The surviving Engwithans then sent missionaries to the corners of the world to spread their faith. The missionaries knew the secret of their gods' creation, but never revealed it to anyone. They refrained from marrying, voluntarily extinguishing their bloodlines to minimize the risk of exposure. The entire endeavor was almost ruined when Iovara ix Ensios learned the truth, by accident, from careless missionaries discussing the subject openly at one of their temples.[4] Her defiance and determination to expose the gods as fraudulent eventually coalesced into a popular movement that only grew bolder as the Inquisition formed and retaliated against Iovara and her followers, many of whom were former missionaries. The rebellion threatened to destroy the fledgling faith until Thaos ix Arkannon, one of the authors of the divine project, captured Iovara at a city called Ossionus in circa 800 AI. He brought her to the Court of Penitents and tortured her to death, then imprisoned her soul in the adra cells below. She would languish in solitude, preserved only by her extraordinary will, for the next two thousand years, until the Watcher freed her in 2823 AI.[5]
Belief in the gods of Engwith spread throughout the world, eventually becoming the one true faith of all kith. Their true nature would be successfully obfuscated by Thaos and his Leaden Key.
People may worship more than one god, but they tend to honor those who are most associated with their way of life. Farmers often worship the gods of light, growth, or storms, while warriors might praise the gods of battle or fortune. For some, this worship is a matter of respect and tradition; they believe their deities to be their creators, and disrespecting them could bring dire consequences. For others, worship is a matter of karmic self-interest. Such individuals hope that their deity will favor them and place their reincarnated soul in the body of someone who will live a good life. For them, choosing not to worship is to risk spiritual confusion, aimlessness in the Beyond, or a place in the lottery of souls, which could result in their next life being worse than their current one. Beyond their primary deities, most people will say a prayer to the appropriate god when the circumstances are right. Farmers will pray to the god of battle when their lands are invaded, and warriors will pray to the god of the hunt when they're starving in the wilderness.
Sometimes, the same god has distinct identities in different parts of the world. The most notable example of this is the god of life and death, called Berath in Aedyran and Cirono in Vailian.[6]
Abydon: God of crafting and the forge, and patron of the Knights of the Crucible.
Berath: God of cycles, doors and death.
Eothas: God of light and redemption.
Galawain: God of the hunt in all its forms.
Magran: Goddess of fire and war.
Rymrgand: God of death, famine, plague, or simple bad luck.
Skaen: God of secret hatred, resentment, and violent rebellion.
Wael: God of dreams, secrets, mysteries, and revelations.