Berath's Blessings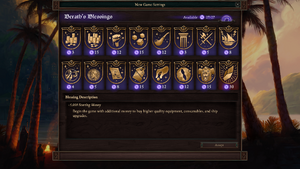 Berath's Blessings are optional upgrades you can select when starting a new game in Pillars of Eternity II: Deadfire. These are a set of additional options meant to change up the beginning of the game, generally by allowing the party to head to more challenging areas faster or reducing the need for exploration.
Each blessing requires a number of points, which are accumulated by completing achievements. There are 174 points worth of blessings, while 105 points can be earned with all DLCs (80 in the base game, 9 in Beast of Winter, 8 in Seeker, Slayer, Survivor, and 8 in The Forgotten Sanctum.)
A number of blessings have not been implemented, including immunity to engagement, increased power levels for the player and party, bonus attributes for the party, the ability to purchase the submarine and the Floating Hangman at Neketaka, and a few others.
| Icon | Name | Points | Effect |
| --- | --- | --- | --- |
| | +5,000 Starting Money | 3 | Begin the game with additional money to buy higher quality equipment, consumables, and ship upgrades. |
| | +50,000 Starting Money | 15 | Begin the game with additional money to buy higher quality equipment, consumables, and ship upgrades. |
| | Start at Level 4 | 12 | Begin the game at a higher level. Once you complete the Prologue you will immediately be able to level up your party to a higher level. |
| | Bonus Attributes (Player Only) | 15 | Begin the game with inherent bonuses to Might, Constitution, Dexterity, Intellect, Perception, and Resolve (specifically, +2 in each). |
| | Explored World Map | 12 | Begin the game with the World Map explored. |
| | Bonus Skills | 3 | Character class grants double the normal starting skill bonus. Applies to all party members. |
| | Fine Equipment | 5 | Begin the game with Fine quality weapons and armor. |
| | Upgraded Ship Sails | 8 | Begin the game with the Stormwind Sails ship upgrade. |
| | Experienced Ship Captain | 4 | Begin the game as an Expert ship captain. |
| | Unique Item Vendor | 5 | A vendor who sells magic and unique items will appear in Port Maje. These items will be offered at very reasonable prices. |
| | Infamous Past | 8 | Begin with the Infamous Captain passive (as if you have survived a mutiny). |
| | Discount Craftsman | 15 | Crafting and enchanting currency costs are reduced. |
| | Loaded Pockets | 12 | Pockets are filled with more and rarer items. |
| | Legendary Crew | 12 | Three unique and veteran sailors become available for hire in The Kraken's Eye tavern (at a discount). They are Creath, Doru and Tylla. |
| | ...Can I Pet Him Anyway? | 15 | Edér unlocks the pet slot. |
| | Mythical Discovery | 30 | A mythical adra stone appears in the prologue armoire. |